How to Create Mail Filters in Netscape 6.0 and Higher
Please Note: These instructions are for users
who have experience setting up software programs.
---
1. Open Netscape Mail, click on "Edit" and select "Message Filters."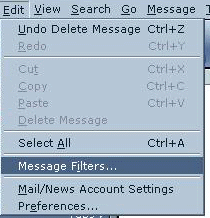 ---
2. On the right hand side of the "Message Filter" window, select "New."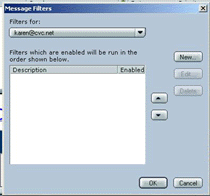 ---
3. In the "Filter Rules" window, type in the name of the filter you want to use (for example:
"100% Risk Free"). Under "Conditions," mark "match ALL of the following conditions."
At the bottom of the window under "Actions," select "Delete" from the drop down menu.
Click "OK" to continue.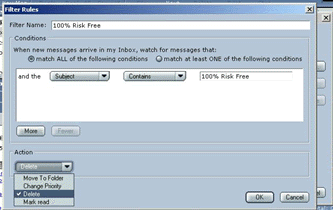 ---
4. You will be returned to the "Message Filters" window showing you the new filter you just
created. Click "OK" to return to Netscape Mail.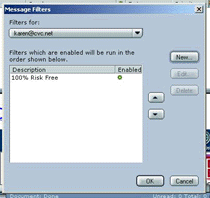 ---
Beware of spelling and how these Spammers are wording things. You will need to create different filters for each piece of Spam. It is time consuming, but once you have created the rule, those messages should go directly into your "Deleted Files" box.
Don't forget to empty your "Deleted Files" box - it will start filling up fast after the filters are in place!
---
Copyright © 1996-2008, CVC Internet, LLC. All rights reserved.
Certain names, logos, designs, titles, words or phrases on this site may
constitute trademarks, service marks or trade names of CVC Internet, LLC.,
or other entities which may be registered in certain jurisdictions.
This web site contains links to other Internet sites, and such links are not
endorsements of any products or services of such sites, and no information
in such Internet sites has been endorsed or approved by CVC Internet, LLC.
CVC Internet, LLC disclaims any responsibility, if some web site you link
to has material on it that offends you in any way. If problems or
questions arise with the use of any of the linked web sites, please
contact the company that owns or operates the Internet site.