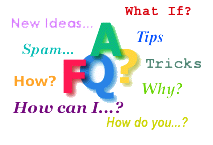 Email Tips and Tricks

Change Message Font in Outlook Express


Deleting Multiple Emails in Outlook 2002


E-greeting Downloads Porn


Email Must Now Contain a Subject Line


Email Scams and Hoaxes


How To Create and Use Identities in Outlook Express 5.5


How to Delete Numerous Emails in 4 Easy Steps


Outlook Express Quick Tip


Turn Off Your View Pane


Using Blind Carbon Copies


"Zipping" Up Large Files

CHANGING THE MESSAGE FONT IN OUTLOOK EXPRESS
Changing the font style in Outlook Express is easy. Here's how:
Open Outlook Express
Click Tools, Select Options, and select the Compose tab
Under Compose Font, click the Font Settings button next to Mail
Pick a font, font style, size, and color
Click OK
Go to the Read tab and click the Fonts button
Change the font and click Set As Default
Press OK
Click Apply and OK
The next time you compose mail, you will not need to worry about tweaking the font. Just start typing!

HOW TO DELETE MULTIPLE JUNK E-MAIL MESSAGES IN OUTLOOK 2002
To delete a single junk e-mail message from your Inbox and add the sender's name to your list of junk e-mail message sender names, follow these steps:
Right click the junk e-mail message in your Inbox

Point to "Junk E-mail"

Click "Add to Junk Senders list"

With the junk e-mail message selected, on the "Edit" menu, click "Delete"
To add a single junk e-mail message sender's name to your junk e-mail message senders list so that future e-mail messages from the sender will be sent directly to your Deleted Items folder, follow these steps:
On the "Tools" menu, click "Organize"

Click "Junk E-mail"

Customize the first bullet item by using the drop-down boxes so that the sentence reads "Automatically move Junk messages to Deleted Items" and then click "Turn on"

At the "For more options" label, click "Click here"

Click "Edit Junk Senders"

Click "Add"

Type the e-mail alias of the sender to be added

Click OK

Click OK again

On the "Tools" menu, click "Organize" to return to your Inbox

E-MAIL MUST NOW CONTAIN A SUBJECT LINE
Due to the increase in Spam on the Internet, any incoming and outgoing mail needs to have a subject line to assure delivery. If there is no entry on a subject line, there is a strong possibility that it will be "lost" in cyber space due to filtering on the open Internet.

EMAIL SCAMS AND HOAXES
Have you ever wondered how true an email is? Have you ever wondered if the virus warning is real? Here is a place you can check for the truth: http://hoaxbusters.ciac.org/ This site is maintained by the Department of Energy and has a list of all the known hoaxes and virus warnings that circulate through email. If you aren't sure, or if it just plain doesn't make sense, check it out before you forward it to everyone in your address book!

E-GREETING DOWNLOADS PORN
The email may look harmless enough; it appears someone has sent you an e-card. If you click on the link, it will take you to the site to pick up your card. Easy enough right? Email marketers (many being porn sites) are increasingly borrowing tactics used by hackers to trick potential customers into seeing their messages using Microsoft products to instantly download their unwanted programs. The latest site is from www.xxxgreatings.com and will mimic many legitimate greeting card sites by including a personalized subject line. Within the message, there is a link to the Web site and a small note: "E-card viewer plug-in may be required to view some cards" - after accepting a lengthy agreement unwittingly download a program that is porn-filled pop-up ads and hands over the email address in their Outlook address book to the marketer. It has been suggested to avoid clicking on email links you do not recognize.

HOW TO CREATE & USE IDENTITIES IN OUTLOOK EXPRESS 5.5 & 6
PLEASE NOTE: You must be currently using Outlook Express version 5.5 or 6 in order for this to work properly. To check the version you are currently using, open Outlook Express, click on Help in the top left hand corner, select "About Microsoft Outlook Express" and a window will appear showing which version you are currently using. To upgrade your browser and mail program visit: www.microsoft.com

To create a New Identity (or second e-mail account), follow these steps:
Click on the FILE menu, select IDENTITY, and the click ADD NEW IDENTITY.

In the TYPE YOUR NAME box, you may type your real name. Click NEXT to continue.

A small box will appear asking you if you want to switch to the new identity, select YES.

The Internet Connection Wizard will then appear, asking you for your DISPLAY NAME, you may enter your REAL NAME or any name you want. Click NEXT to continue.

The next screen will ask you to enter your e-mail address. You will want to enter the username@cvc.net. Click NEXT to continue.

The E-mail Server Names are both the same. For the POP3 and SMTP settings enter mail.cvc.net and click NEXT to continue.

The following window will tell you that you have successfully entered all the information needed to set up the account. You will need to click FINISH to save the settings.

You may be asked if you want to Import any Messages and/or an Address Book, if you would like to bring any addresses or messages with you, leave the default marking and click NEXT to continue. Follow the windows to import that information.

If you do not want to Import anything, mark "Do not import at this time" and click NEXT. A window will appear confirming you do not wish to import, click FINISH.
You have now successfully created your second Identity or mail account. To change between the Identities, click FILE, select SWITCH IDENTITY, click on which Identity you would like to be, click OK. Remember when you log on to the Internet you will need to use the primary username and password since the second account is only for mail.

HOW TO DELETE NUMEROUS E-MAILS IN 4 EASY STEPS
Rather than using your Delete key over and over while you delete unwanted or mail you have already read and don't want to keep, follow these easy steps:
Click on the top message that you want to delete

Hold down the "Shift" key on the keyboard

Click on the last message you want to delete (the messages will then become "highlighted")

Let go of the "Shift" key, and select Delete on your toolbar
If you accidentally delete a message that you didn't want to delete - don't panic! It will be in your Deleted Items folder!

OUTLOOK EXPRESS QUICK TIP
Open Outlook Express
Write your message
Hit your Alt and S keys to send your e-mail right away without having to press the Send button
This tip does not work in Netscape 6. Research is being conducted to find short cut keys for the Netscape program.

TURNING OFF YOUR VIEW PANE
If you would like to view subject lines in your mail program before reading the message (and to avoid seeing things you may not want to see), here is an easy fix:
Outlook Express:
Open Outlook Express, click on the View button on the upper left hand side of the screen; select Layout and unmark "Show Preview Pane," click Apply and then OK. You will see that the lower view pane is now gone and you can double click to view any message you want to read. To delete any messages you do not wish to read, simply click on the message one time, and click Delete on the toolbar.
Netscape 6 or higher:
Open Netscape mail, click on the line separating the Inbox and the view pane between the arrows (it looks similar to an "=" sign). This will make your lower view pane drop and you can double click to view your messages or click one time and Delete the unwanted message.

USING BLIND CARBON COPIES
What are "Blind Carbon Copies" (also known as "BCC")? The term BCC dates back to when typewriters were using carbon paper to make copies of the original document and one of the copies was not being acknowledged - kind of like a "secret" copy. Today, we can use this feature to hide e-mail addresses so that you don't disclose everyone's e-mail address to everyone else. Why use this option? Because when you don't those addresses can get forwarded all across the Internet. When you send twenty of your friends an e-mail showing all twenty e-mail addresses and those twenty people send it on to twenty more, suddenly 400 people now have your address and twenty of your friends addresses. How can you stop this circle? Blind Carbon Copies is one way, another way to stop the spread of e-mail address is to cut them out of the message body before you forward the e-mail on. This is how it works:
Outlook Express:
Open Outlook Express. Click on "New Mail" - do you show an option "BCC?" Yes No
Netscape 6.0 or higher:
Open Netscape Mail. To send a message to several people, click on "New Message" and where you would typically address the message, click on "To:" for a drop down menu and select "BCC." Address the message using the "BCC" line, add your subject line and text, send message when done.
(For more information: Netscape 6)
Netscape 4, 4.5, or 4.7:
Open Netscape Mail. Click the "New Msg" button and select New Message. In the "To:" field, type your own e-mail address, click on the line below, another "To:" box will appear, click on "To:" and a drop down menu will appear and select "BCC." Type the addresses you want to send the message to using a comma in between each address, add the subject line and text, choose "Send" when message is complete.
(For more information: Netscape 4)

"ZIPPING" LARGE ATTACHMENT FILES
Zip files can be a very useful tool when sending and receiving large graphic files or large photo files. Using .zip files makes sending and receiving larger attachments easier and less time consuming. To take advantage of this format, you will need to be able to turn normal files into .zip files , and turn .zip files back into normal files. For this you'll need to download the latest version of Win Zip.
Once you have downloaded the program you may be wondering what to do if you want to mail a friend some pictures in a zip file, but aren't sure if they have the right software to unzip the file back to its original form. Win Zip comes with a "self-extractor" function - which means you can take a file and produce a compressed, archived version which takes the form "filename.exe" instead of "filename.zip."
In other words, Win Zip compresses and archives the file, but also includes additional information. This additional information means that the file becomes its own self-contained program. When you run this "program," just like any other program through the Windows start menu, it automatically unzips itself - you don't need any extra software. However, you will need to have a licensed version of the software in order to use this feature.

Copyright © 1996-2008, CVC Internet, LLC. All rights reserved.
Certain names, logos, designs, titles, words or phrases on this site may
constitute trademarks, service marks or trade names of CVC Internet, LLC.,
or other entities which may be registered in certain jurisdictions.

This web site contains links to other Internet sites, and such links are not
endorsements of any products or services of such sites, and no information
in such Internet sites has been endorsed or approved by CVC Internet, LLC.
CVC Internet, LLC disclaims any responsibility, if some web site you link
to has material on it that offends you in any way. If problems or
questions arise with the use of any of the linked web sites, please
contact the company that owns or operates the Internet site.